OK – I build websites, not buildings. Those guys are over at the UK domain, but they have created all sorts of questions for me on analyzing how Google works. It is quite clear from Google Instant that when most people type in "Dixon Jones", Google thinks they are more likely to want them than me. You can see this by putting my name into Google and then adding a "space". Google then tries to suggest ideas and the idea that someone might be looking for Dixon Jones the SEO is way down Google's list of options.
That's a humbling experience! But on the other hand – you cannot argue with Google's logic. They designed the Royal Opera House. I designed dixonjones.com! Not exactly parity.
For the first 5 years of the Internet, I implemented email forwarding because I kept getting what I assume must have been confidential designs to buildings not yet built.
Then they built a Flash based website and my SEO challenge really started. Google ranks me for all sorts of things – and some of my posts actually have some traction – but it seems that this simply broadens my areas of expertise. By contrast, my architect namesakes give very little clue to Google as to what they are all about. So Google takes the only signal it can – their brand.
I absolutely admire Google here – not least because it shows an extremely powerful way for Google to rank results over and above links. Most people in the SEO industry know that I have more than a passing interest in how links affect rankings – and for sure it isn't a lack of links on my site – at least not in absolute terms:
It's also a challenge to say just by links why they have a better heritage. In Majestic's Fresh Index, they are showing links from just 18 domains with an ACRank of 2 or above. Maybe – by comparison – my 376 is just a little unbelieveable for the algorithm? Who can say. However, links do nothing to disguise what people are searching for, and if people are self selecting the architects over myself, perhaps I should change profession. My next area of investigation, then, is to see just how impressive these architects are? Well Google can help me out there: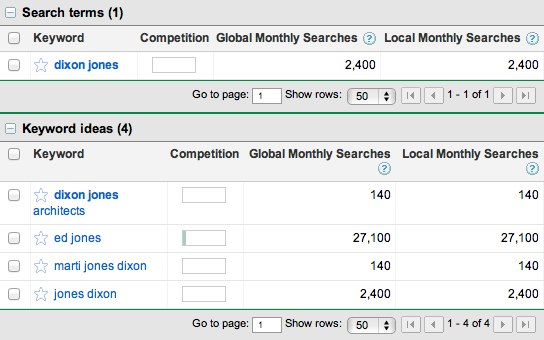 Only 140 people in the world look for the "architect" filter after the search each month, the world over. That's even if it is anywhere near accurate (and I'm guessing it isn't). But Google hasn't even shown a suggestion for the suffix "SEO" so what am I going to do? Ask everyone to search for my name on Google in context? No. Probably not Matt. Just trying to find out what I need to do to amplify my message a bit more. In the meantime – Kudos to Google.
To be absolutely honest, one of us should sell our domain to the other. I doubt theirs is for sale, though. So how about it Dixon Jones? Care to give me a year off work? I'm really not too proud to accept a serious offer.