It looks like this is your first time here?
Please subscribe to my RSS feed! Have a good read...


I have always felt that there was a lack of case studies for link building campaigns. When I go looking, people say "of course, silly, nobody wants to admit what they are doing". So I guess I have to 'fess up,  in the hope that it helps some of you to develop creative link building campaigns that don't suck too much. If you link to this page, I might even get a last minute "bump" for the client too. (Begging seems to be a big part of this game.) For six months, we have been working on Paddypower's bid to take some share of the world cup betting market, which is – of course – about to hit the fan big time. A PPC meeting with Google suggested that on the first day of the cup, they predict the phrase to literally be "bigger than sex". (But only for one day.) Paddypower already spend millions on Google PPC every year – but just in case you think they get any favours, I can assure you they don't! So Receptional was tasked with helping Paddypower on two landing pages in particular, "world cup betting" and "world cup odds". Here's some of the strategies we adopted and how it has turned out. Of course, there's still a few days until the start of the cup – so I am really hoping this post isn't premature.
The Tactics
Blog content and article syndication: Paddypower hired a professional reporter (Nick Parkhouse from the Independent) and set him the task of writing stories on a word press blog almost daily in a subdirectory of Paddypower.com. He was also on hand to write stories for us for third party sites as well.
Data content: We decided to make this the landing page for the "world cup odds" phrase – a live odds page, which was constantly updating over six months as the teams for the tournament broke legs and lost managers. The logic with using content as data is that it is relatively hard for others to copy.
Widget syndication: I have already leaked that we built a content widget, which I think inadvertantly ranks for the phrase "world cup widget" right below my own post on the widget itself. The widget was originally designed so that the anchor text might vary over time, but as we focused down the campaign, it was clear that the big phrases were that Paddypower wanted us to work on. The widget gave live odds and live news content straight into third party sites.
Internal link theming: We ran some checks on the Paddypower site itself and made sure that search engines really could not get confused as to which landing page was relevent for which anchor text and we also removed some potential duplication issues which come as the result of some WordPress installations.
Setting up a community: This probably didn't work quite as well as we had hoped, but we also created a community on a Ning network, at worldcupcompanions.com. The idea here was to use this as a bargaining chip – with an "I'll scratch my back if you scratch ours" kind of approach. Half way through the campaign, Ning made all the user's links nofollowed, but worse than that, we did not really get the traction for the community that we hoped for. Never mind – lesson learnt – don't use a third party social networking site if you can help it.
Press releases: PRWeb do not allow gambling related press releases, so we used alternative newswire services, which were just as good, if not better.
Lotusjump: This was on the cards, to help identify questions on World Cup posts and possibly article syndication locations, but maybe since Lotusjump is US focussed and the US doesn't know what soccer is, we found this useful a little to start, but then it became a bit repetitive in its suggestions.
Targeting link candidates
Adsense Publishers. When we started out, Google Adsense did not allow gaming adverts on content match ion the UK for PPC and likewise, adsense publishers were not allowed to be gambling sites. We therefore targeted Adsense publishers with Football sites initially. We felt that these guys were not necessarily in it for the money and might be most susceptible to changing their adwords spots for a widget, or would be under reseourced and would welcome a professional reporter writing about them. We generated some great links this way and some great content for sites like kumb.com (That stands for Knees Up Mother Brown… you need to be a West Ham fan, really). Of course, the ground changes fast – and a few months in, just as we were figuring out what people want – Google decided to change their policies in this regard as well. Hey ho.
Bloggers:  We also endeavoured to cozy up to the blogging community – a strategy which actually culminated in us buying "steak and a pint" for bloggers… not that the bloggers that turned up were the ones that wrote articles, but we have identified that link building is all about relationships… and I have always found that a steak and a pint helps relationsips.
Targeting competitor's backlinks. As we came to the wire, it was clear which sites we were up against on the pharses. We looked at their backlinks in bulk, and approached these guys directly with our own offerings and this had some success. Doing this too early would have maybe alerted the competition – but when the cup was only weeks away, I figured that the cat was out of the bag anyway.
Fifa backlinks: Our last target was actually targeting sites that had Deep linked to the Fifa world cup page. That page is now Fifa's home page as of last week, which would have been a bit absurd to target, so I am glad we tried this strategy just in time. We didn't expect huge amounts of success, but felt that pages linking to this early page might want our widget or out content. We got some success here too.
So how have we fared?
Well – there are still a few days to go until the start of the cup. But as of this post, we are number three for "world cup odds" and top 10 for "world cup betting".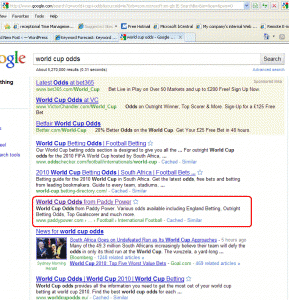 What is interesting is that the top guys are still – on the whole – affiliates. They must have well entrenched sites and balls of steal!