SEO Speaker Engagements
I think it is my sheer determination not to lay down and die that keeps getting me invited onto the podium to be an SEO speaker at Internet Marketing conferences. If you would like me to speak I am open to offers!

Engagements in 2012
15-16 Nov: IEG Chicago
10 Nov: SEO Camp, Toulouse, France
October: SMX New York
October: Pubcon Las Vegas
23 – 25 July: Search Exchange, Charlotte
6th June: Hitreach, Arbroath
22nd May: Search Marketing Day, Poznan
17 – 18 May: Sascon, Manchester
14 – 16 May: SMX London
24 – 25 April: IEG, San Francisco
13th April: Brighton SEO
27-28 March: SMX Munich
19-23 March: SES New York
3rd * 4th March: Thinkvisibility, Leeds.
28th Feb – 1st March: SMX West, San Jose.
23&24 Febrauary: San Deiego Predictive Analytics Summit, San Diego.
15th January SMX Israel
Engagements in 2011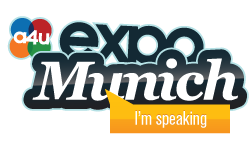 Engagements in 2010

Pubcon Vegas, November
International Search Summit – London – October
International Search Summit – Berlin. 7th June
SAS – Manchester
A4U Munich – 18th/19th May
SMX London -17th/18th May
Pubcon South (Dallas) – 13-15 April
SES NY – March
RIMC Iceland – 12th March
SMX/SphinnCon (Israel) – 7th March
SES London 16th-19th February

Engagements in 2009:

Engagements in 2008:

November Webmasterworld Las Vegas (Moderating)
November SMX London
October Scottish Enterprise Council, Gretna Green
October 14th-15th A4Uexpo.com, London Excel
September SMX Stockholm
July 16th Open University Entrepreneurs Forum, Milton Keynes
Feb 8th 2008: Iceland again. rimc.is
Feb 19th – 21st: SES London.
Feb 27th: Society of MBAs, Old Beaconsfield, S. Bucks.

Engagements in 2007:

Microsoft / Chambers of Commerce. Several events around the country with Microsoft where I was talking about organic SEO while Mike from Optimize talked about PPC. Microsoft sponsored it all. Thanks guys.
SES London: Actually twice, once in February where I was on a panel and also in November, running a workshop on link building strategies
eVirus: In Vilnius, Lithuania. The Keynote speaker slot and a great experience in September.
SMX Stockholm: SMX is the new conference by Danny Sullivan and Chris Sherman, who really were the creators of SES. I was delighted to be invited back to Sweden in October.
SMX London: My home ground in November.
A4U: the largest affiliates network in the UK have got all the way to london Excel this year with their first fll blown conference in November. I am on a few panels there.
PubCon: Las Vegas 4-7 December. I hate Las Vegas, but love the show. I am moderating on panel on European search and I will probably be on a site clinic panel again.

Other great places that I have had the chance to speak on Internet marketing at in the past include:

New York
Iceland
Vancouver
Montreal
New Orleans
Edinburgh
Sunderland (it wasn't THAT bad)

I tend to put up the text and slides from my talks on my Live Space as it keeps my hand in on using the Microsoft blog system.