Ever since SMX Seattle LAST year (2007) it dawned on me that staying alive in any shape or form in the Social Media was going to either take huge amounts of time, huge amounts of talent, or… basically… a shortcut. I'm not sure if I was even ON facebook then, and certainly avoided blogging if I could pay someone else to do it. But the world was changing. Very fast.Towards the tail end of 2007 I came across Netvibes. Now I know everyone seems to be using all sorts of other tools to keep it all together, but Netvibes does a huge amount all in one place. It currently manages:My Facebook; My Twitter; Digg; Delicious; My images (Ask, Google, Flickr and Yahoo) all on one screen. On the second tab I can see my RSS feeds, and on a third tab I can see my Yahoo Emails, My Gmails, my Hotmails. Not that I NEED to lay it out that way. With a press of a few buttons I can drag and drop the layout or add all manner of modules. Here's a screenshot of my main page.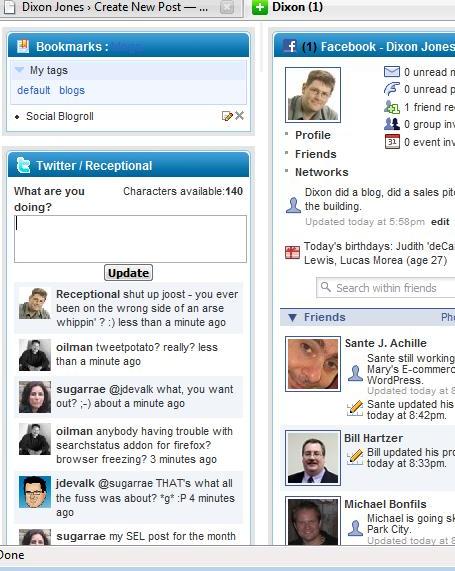 It's clean and clear and makes all the modules easy to use. Although Rae is too short to look over the ledge there!Take the Twitter module, for example. Just being in my Netvibes I can see my Twitter conversations really easily, but if I was on Twitter itself, I have to refresh my whole page every few minutes if I want to see if anyone loves me. That's really depressing, because usually I just get ignored. But here, life's easy. I can update my Twitts or whatever they are called on the screen, or refresh the feed, without losing sight of my Facebook or other areas.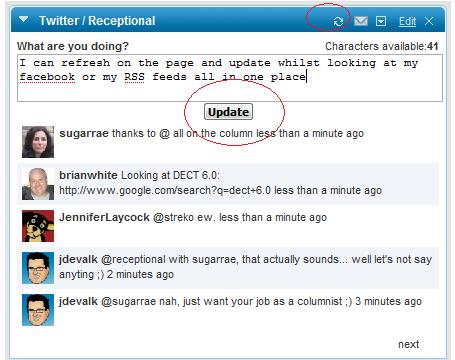 What I like about Netvibes:
It's web based, so it works on my iPhone as well as my laptop or wherever I get connected.
As soon as I log on it retrieves all my online world at once.
You could use it for multple accounts (including multiple Twitter IDs if you are schizofrenic)
It is entirely adaptable with drag and drop functionality.
What I don't like:
It's a bit too slow to be my default home page, as it tries to log in to everything at once when it loads
It doesn't appear to have Microsoft Exchange support.
So what other widgets can I bring in other than Twitter and RSS feeds? Well I am way off learning everything. I do have a day job you know! but here's just a few…Weather; Craigslist; Calander; Facebook; Myspace; HTML pages; Ebay; Yahoo News; BBC stuff; box.net Link Widgets; Alexa widget; Stocks; Hack a day; Url shorytener; Mashable; Forbes… and hundreds more.It's certainly a time saver for the average SMO Joe! But it's not the only one.
Here are a whole load of other reviews for Twitter timesavers:
Twitterfox Review
Review of the Twhirl Twitter Client
Review of TwitterTools to integrate WordPress and Twitter
Twittering and Twitterific – A Review
Review of the TwitterBerry app for BlackBerry and Twitter
Twitterfeed Review
Twitter and TwitBin – Microblogging Made Easy
The Guide to Being a Drunken, Debaucherous Twit