I am sorry… I couldn't help myself when I saw this on Freelancer.com.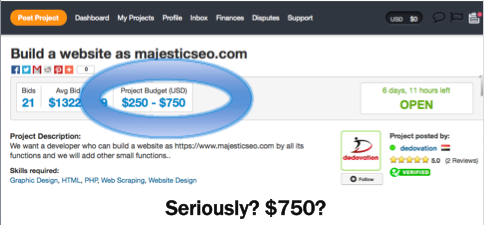 I assumed the project budget must be an error…. 250M-750M must be what he meant, so I put in a provisional bid of $277,777,777 although I would need to get the other shareholders to agree before I started the work…
If it was indeed a budget of $250, I have some questions for "Deadovation" which I think is the handle for the guy that wants it built.
Is the power supply for computers like these a chargeable extra? That picture was posted in 2010 by the way… we have grown quite a bit since then.
In an average day, Twitter says there are 500,000 million Tweets. In the same 24 hour period, Majestic typically crawls FOUR TIMES as many web pages and then does a calculation on about 700 billion pages. Do I need to also build the crawlers and the data centers for the distributed crawlers for $250 or is that a chargeable extra?
So far, Majestic has crawled 53,110,348,345 MB of data. Which hard drive would he suggest I put the data on when I build it for him? How would he like the data delivered? Container lorry?
Is this project asking me to copy another project, or are the "few extra bells and whistles" going to be enough to stop the lawyers?
Is PHP the right software language for interrogating a data set of this size?
If you are going to build something on the Internet, I have two honest to god bits of advice. The first is to innovate, not replicate. The second is to understand at least the basics of the technical challenge you hope to overcome.
In the meantime – if you want the REAL THING, it costs from £30/$50 a month per user. I think that is probably the wiser option.