My son's XBox Live account stopped working last week.
You would have thought XBox support/UX was friendly wouldn't you? I know millions of people use it every day… but have you ever tried to be a parent when your child's Xbox Live stops working? Oh… My …. God, Microsoft. OH…. MY….GOD!
It all started many years ago when my then quite young son wanted an Xbox and apparently needed an "ACCOUNT" to use it. I got one for him using the "parental" option and it would appear that since I was in the US that day… or because on that day only US account had parental controls or… or because the "Gold for a year" voucher card from the shop deafulted to US or for WHATEVER reason, his account is registered as a US account, despite us living in the wilds of England.
So this means it is practically impossible to enter a UK credit card…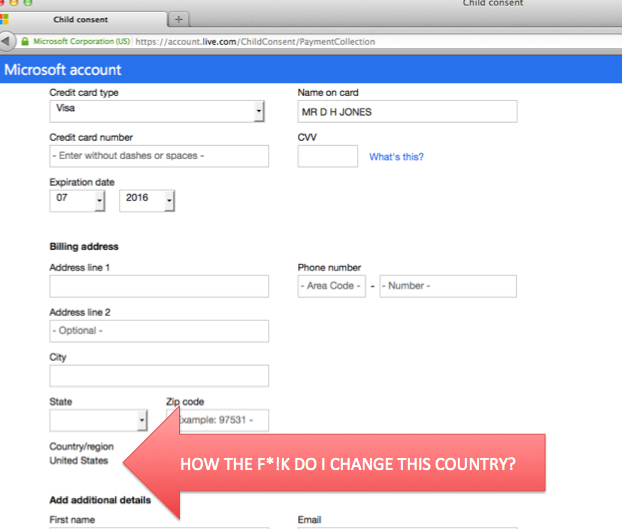 Well I went onto support to try and find out. I chose the "community chat" button…Is it meant to look like this Microsoft?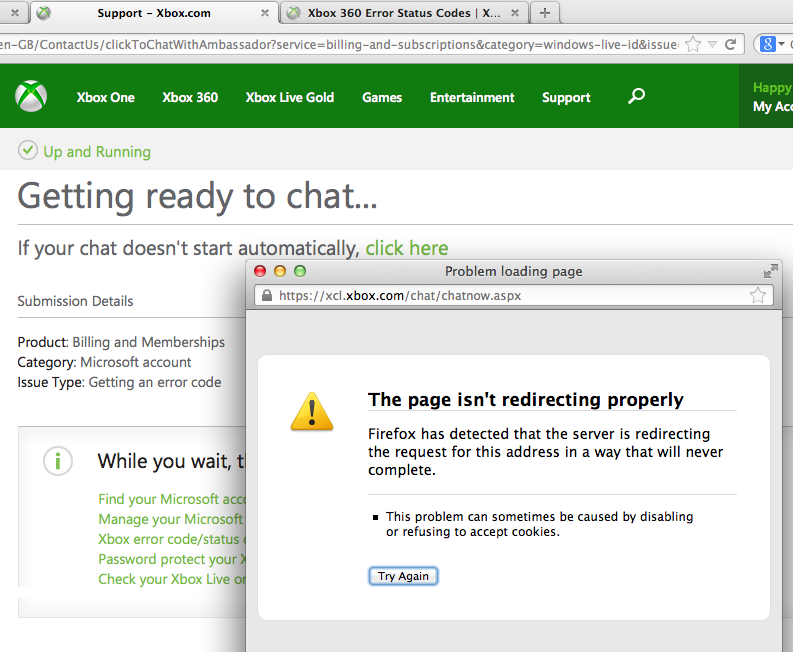 My cookie support is just the basic paranoia level, not the wicked conspiracy level and chat systems work on other sites, so I reverted to other ideas. Weirdly, I seem to have two logins for the same account – one for my under age son and one for me, the over stressed parent. The email address of me as "dad" has no Gold account and my son has an active Gold account… I recall heartaches some months ago getting this all working, so I did SOMEthing right… but when I try and update my son's account it says I need parental permission… so I am prompted to log in again… all very painful. Especially when i get to a screen like this:

Errr… you re darn right it shouln't have happened. But I know a thing or two about big data and I know there are issues. But thank you SO much for the helpful message and guidance as to what to do next Micrososft. What… from that screen… am I meant to do next? I know… I'll try and look up the error code. I see that you have so MANY errors that you give us a lovely error code lookup box right there in my account menu.

Lovely. Here's what I get:

Bollocks….  right… what's next? Ah! there's an option to change the region! Hoo…ray…Henry! It requires sending me a verification code to my email address… fair enough… at least it's to the "parent" email address. I put in the code to change the region to the UK. I get: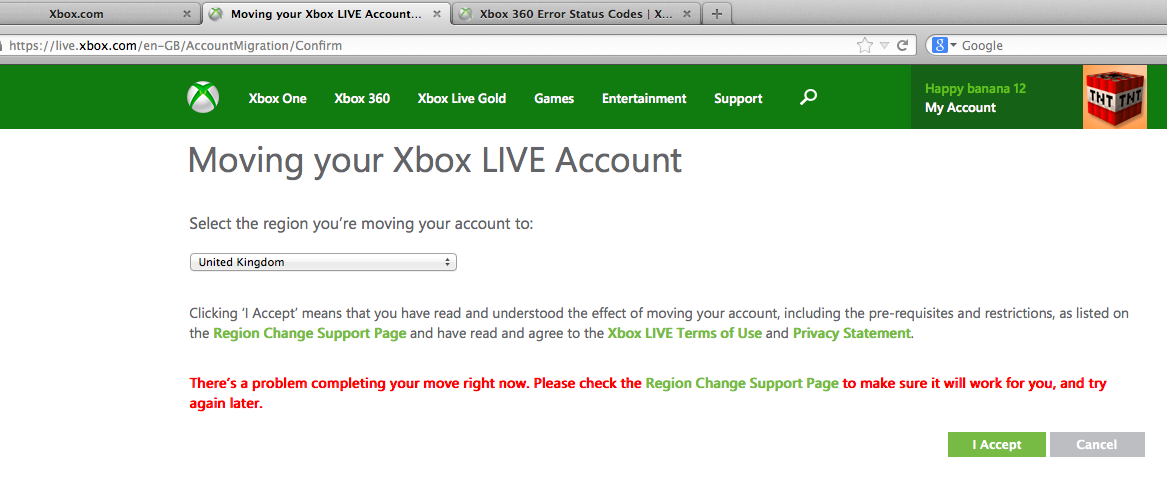 I wonder what is on that "Region Condition Support" Page? let's have a look?

I can only assume the system thinks I am a minor. For the record I'll turn 50 next year if technology doesn't kill me off first.
It was at ABOUT this time that my son bounces down the stairs saying "Thanks Dad! That fixed it!" I said "What?" He says, "whatever you did, you just fixed it."
Ah well… he's happy now. It turned out in the end that I had to tick the new terms of use box! The terms I spent ages reading the first time around and then had inadvertantly ticked on the way in to try and solve his problem.
I'm happy again now.