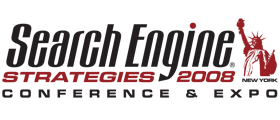 I have been on various panels in the past at SES New York, but I don't suppose even hardened professionals at these conferences realize that the day before or the day after the bigger conferences, SES runs a much smaller – more intense training day. This year it is on the Friday after the man event.
I was first asked to to Link building training for SES back in their SES@A4U event in the autumn. I was so worried that I would make a fool of myself that I flew of to SES San Jose JUST to watch how Debra Mastaler and Jennifer Laycock coped with four hours of intense training to a small, hyper-interested group of delegates. Talking for 15 minutes to a mass audience is one thing, but four hours is quite a different matter!
Anyway, the London event went fine in the autumn and I my feedback scores were at least good enough get a chance to go again in New York. I hope that the US audience will be kind to me too.
P.S. Happy Birthday Shimrit.