I saw that Facebook today (or was it yesterday?) launched a new advertising platform. Well – two actually – but the first is called "social advertising" and I managed to get my first ad campaign running on a PPC basis in about 10 minutes flat. Some observations and screenshots along the way for anyon interested. I have also put all the links through my own affiliate tracking software, so after a few weeks I'll be able to tell you some conversion data as well.
 The first great thing is that Facebook makes it even easier to target specific demographics and interest groups. I started off with a massive audience (everyone in the United States) but soon decided to target my adverts to women – because they tend to buy my murder mystery games more than men – by about 2:1. I was also forced to choose one country (BOO… don't you know I've sold a murder mystery games to the Antartic Expedition via the web? I really HAVE targeted every continent!) but I guess I can set up other adverts for other regions in due course.
I could also type in keywords and interest groups popped up as I went. Here is the targeting I ended up with – how "plain English" is that? I AM impressed. 

So now I have set up my target audience and limited to 125,480 people across America. I'll get the Brits and the Canadians and the Aussies on the next few passes. Right – what was next?
Next was writing the advert – and to my joy I was allowed to upload an image! The text and layout of the advert came alive on the screen. Unfortunately it didn't give me much clues as to how many letters I could use and it turns out that if your domain is more than 20 letters long (mine was www.murdermysterygames.net) then you won't be able to use it in your text creative.
Here was the advert creative Screen – again really simple: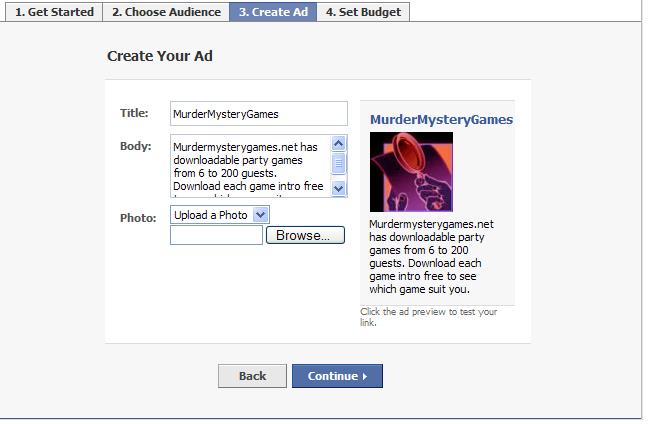 And then game the pring and payment. I was again delighted. I can choose between PPC OR CPM based delivery and I can set the maximum PPC. They are not starting greedy – the default is 10 cents but the minimum is 1 cent. (I went cheap, on the basis that I was likely to be early on the band wagon).
One error or bug here. You are allowed to set campaign start and end dates. I tried to do this – giving myself a great run from now until well after Christmas, which is my peak season for Murder Mystery Parties. The campaign system only allows me to run a campaign up to 30 days in the future. WHOOPS 🙁 "shome mishtake Shurely???" as we say in fashionable London clubs). Never mind – I went for full delivery and set the budget at $50 a day. I figure that if they give spend that at 3 cents a click I'm on a winner! I expect I may have to raise the CPC bar a bit soon. Here's the pricing screen options: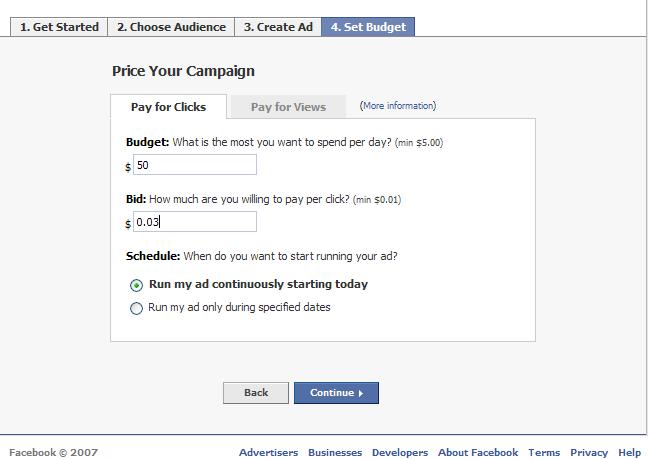 And that was it! My advert is now up and running (OK – I had to get the credit card out too). I'm tracking every click to sale, so let me know if there's any questions you'd like me to report on.