It looks like this is your first time here?
Please subscribe to my RSS feed! Have a good read...
I was honoured last night. Literally!
I was given what I consider to be a great honour – UK Search Personality of the Year. Now as women will testify, I think my "personality" has limitations in many areas – but when it comes to search, I do seem to get around! I absolutely had no idea that I had even been nominated, so it was fortunate that I was still just about sober enough at the Black Tie event to collect the award! Thank you truly to the UK Search industry for the recognition, it really is a pinnacle of success for me to date. I know it is in some ways a closed industry – but anyone is welcome and there was a huge attendance at the awards.
I can also now hold my head up high when I am with Alex – the founder of Majestic SEO – who won the European Search Personality of the Year earlier in 2012. Majestic SEO has pretty much had a clean sweep and the agency I helped found in 1999 – Receptional – has also done well:
The four awards above are:
UK Search Personality of the Year 2012: Dixon Jones (MajesticSEO / Receptional)
European Search Personality of the Years 2012: Alex Chunovsky (MajesticSEO)
European Best SEO Software 2012: Majestic SEO
UK Best SEO Software 2012: Majestic SEO / Receptional
Before all these, the best thing I ever won in search was a Bath tab foot from Vintage Bath and Tub: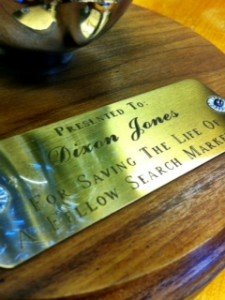 Thank you everyone… here are just a FEW of the many tweets…